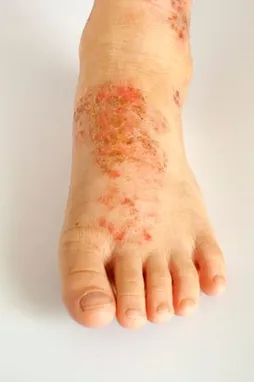 Multiple skin and nail conditions are commonly seen in the feet. For more information on fungal nails, ingrown nails, warts and corns/calluses, please click on the links below.
Tinea pedis, or Athlete's foot, is a common skin condition, and is a fungal infection of the outer layers (epidermis) of the skin. The condition can range from mild dry, flaking skin with itching to painful inflammation and blisters. It typically presents on the bottom of the foot, and or in between the toes.
Treatment typically involves a topical antifungal cream, which may include a cortisone cream if inflammation is involved.
Eczema is another common foot condition, and there are several types of eczema present. Diagnosis may require a skin biopsy, and treatment typically involves topical steroids. Skin cancers such as a malignant melanoma, can also present on the feet or ankles. They will typically appear as an irregular shaped and colored pigmented lesion or mole. Early diagnosis is the key, and is obtained with a skin biopsy.
We offer a variety of services to treat common skin conditions. We encourage you to learn more about what we provide and how we can help. If you have any questions, please contact us by calling (330) 899-9160. We're always happy to hear from you!